Have you recently moved house? For most people, the period right after a move is the time to sit back, relax, and enjoy your new home. However, for some, it's the perfect opportunity to get to work on fixing up their new pad. If you are one of these people who is eager to improve your new house, take a look at these easy projects to start.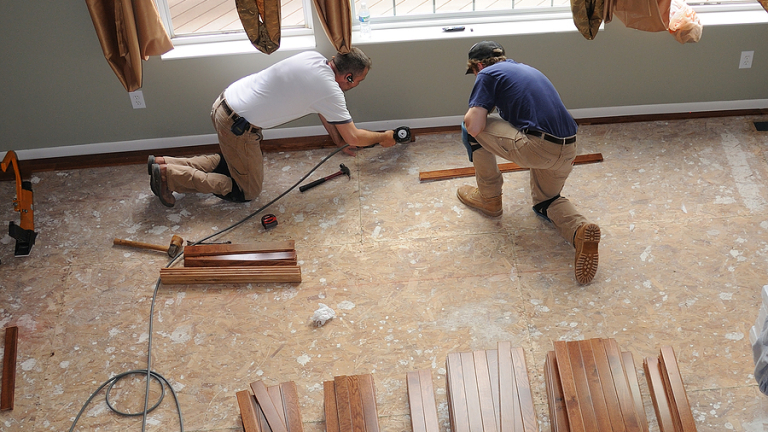 Make your Entrance Stand Out
Your new home should give off a friendly vibe. One big factor that affects this is your front door. Make your entrance inviting by sprucing it up a bit. Install a new handle and mail slot to give new life to your door. Also, adding a new layer of paint, particularly to a bold, bright color, will instantly renew your entrance.
Add a new welcome mat, update the lighting in the area, and even place a few pots of plants to make the space more welcoming. Complete these small changes and soon you'll leave a lasting impression on guests and also increase your home's curb appeal.
If you're looking to change up a few rooms, then adding some crown molding will achieve just that. Molding and trim will instill a rich, historical feeling to your home. Molding helps bridge the space between your walls and ceiling so you can emphasize the architectural characteristics of your home.
You'll need to measuring tape, molding, a saw, stain and paint, caulk, and a nail gun to complete this job. For more a more traditional look, install more ornate patterns, while for contemporary styles, your best bet is to use simpler molding.
Usually, you'll notice a few scratches and holes that you didn't see when you were viewing your new home. There could even be new damage caused by the busy task of moving in. Well now's the time to mend this damage.
Fixing blemishes on your walls is an easy project that can be done in a weekend. Hide away any faults to make your walls looking good as new. Grab a putty knife, filler, and sandpaper and quickly repair nail holes, scratches, and other small wall defects.
For larger imperfections, you'll need to place an adhesive patch over the hole and spread a drywall compound over it. Make sure to allow the filler or compound to fully dry. After that, you can paint it and sand it down to make it match the rest of your wall.
Get Some New Light Inside
Sometimes a room on your home needs a bit of new light. One solution to this is to install new light fixtures. For example, refresh your kitchen or dining area by replacing the existing fixture. Switch off the power at your breaker box, remove the old light fixture, put in the new one, and connect the wires.
If there is a dark area in your house, adding a new light will do wonders. Install a new fixture by cutting in a hole and running the wires through. If this is too disruptive for your preferences, you can just add some stand-alone lights like a lamp. Swivel head floor lamps are fantastic since they are suitable for any dark corner and are adjustable.